Courses Taught:
College American History/Economics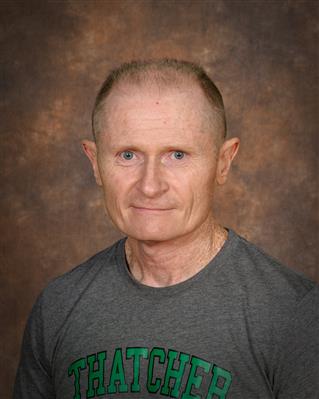 BA in Education from Arizona State University
MS in History from the University of Southern Mississippi
Continuing graduate credits from Loyola Marymount University (CA)
Taught 9 years at Snowflake High School: World History, Economics and American Government.
Taught 3 years at Catalina Foothills High School (Tucson): Modern European History, Economics and American Government.
Have been teaching at Thatcher High School since 2007: American History, College American History and Economics.
Born in New Jersey and grew up at the Jersey shore, though we are nothing like the idiots portrayed on "reality" TV.
Served 4 years in the Air Force.
Have been teaching since 1995.
On occasion I do some independent writing for websites and the Eastern Arizona Courier.
The best way to reach me is through the district's email. I never check my phone as I can't stand telephones. I don't even answer the phone in my home. I strive to be consistent and I wouldn't want to make an exception for something as trivial as using the phone to communicate when email is more efficient and neutral.
As it is trendy, and even expected, that biography pages include some sort of inspirational or defining quote, I will, this once, satiate the appetites of those who hunger for a selected blurb that somehow opens a window into my mind. However, I choose a selection of quotes to that end from my favorite social critic, H. L. Mencken. Enjoy.
"The worst government is often the most moral. One composed of cynics is often very tolerant and humane. But when fanatics are on top there is no limit to oppression."
"Democracy is a pathetic belief in the collective wisdom of individual ignorance."
"Every election is a sort of advance auction sale of stolen goods."
"The cynics are right nine times out of ten."
"I believe in only one thing: liberty; but I do not believe in liberty enough to want to force it upon anyone."
"Giving every man a vote has no more made men wise and free than Christianity has made them good."
NEW! For 2015 and beyond; enjoy these gems from the great George Carlin (all clean):
"By and large, language is a tool for concealing the truth."
"The real reason that we can't have the Ten Commandments in a courthouse: You cannot post "Thou shalt not steal," "Thou shalt not commit adultery," and "Thou shalt not lie" in a building full of lawyers, judges and politicians. It creates a hostile work environment."
"I do this real moron thing, and it's called thinking. And apparently I'm not a very good American because I like to form my own opnions."
NEW! For the 2016-17 school year:
Now that I'm mvoing further north of 50 the AARP has been hounding me more regularly. Since I detest group-think and union-like associations, I don't even read what they send: I just shred it and put the information where it properly belongs.
My grandson grows and he makes me feel young again even though I'm getting older.